Ben Folds Five was one of the more unique bands to bubble up into mainstream radio and MTV in the 1990's. Unique in the sense that they were piano-based, with distorted bass guitar, jazz progressions and arrangements, with an indie/punk rock demeanor. In a world full of "grunge" and whatever you'd classify Bjork to be, it seemed odd that a piano power trio out of Chapel Hill, NC with tinges of Elton John, ELO, and The Beatles would make some waves in the industry.
Regardless, their 1997 album Whatever and Ever Amen (featuring MTV singles "Brick" and "One Angry Dwarf and 200 Solemn Faces") really grabbed my attention, at a time when my CD changer was full of Deftones, Radiohead, and Soundgarden. Musically smart, lyrically smart, and quite quirky, Ben Folds Five quickly became one of my favorite acts, and still is to this day.
The band went their separate ways in 2000, with Ben Folds moving on to a successful solo career. I never got to see Ben Folds Five play before their split (I was supposed to, in 1997 on my birthday, but family ended up needing me elsewhere). Two years later, they toured through my area again but I misread the newspaper (yes, we still looked and the newspaper for events) and missed it by a month. So you can imagine how bummed I was when they officially disbanded a year after that.
But lo and behold, twelve years after calling it quits, the band re-emerged with a new album (The Sound of the Life of the Mind) and a world-wide tour. I immediately bought tickets for the San Francisco stop, and was approved to photograph their show at The Warfield on the morning of the show. I was elated.
A couple of months later, I woke up to an email from a graphic designer asking me to get a hold of him. He was working with Ben Folds Five on their first official live album, and the band had found the above image while scouring the internet for tour photos. They wanted to use it as the front cover of Ben Folds Five: Live, to be distributed by Sony. So after responding to some emails and signing some contracts, my photograph made it to store shelves all around the world…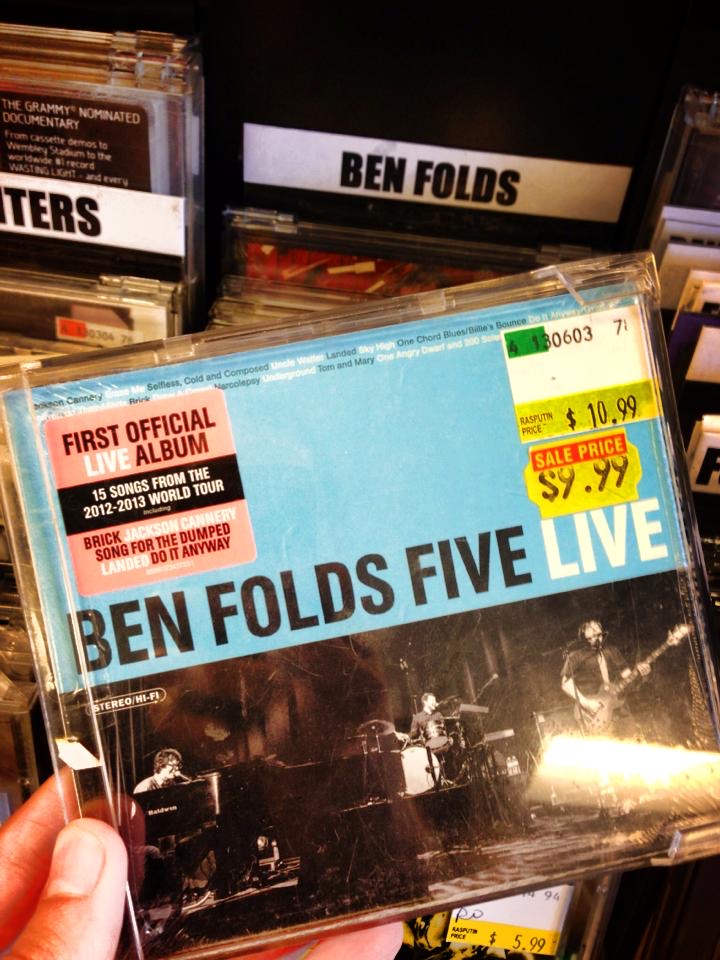 After waiting 16 years, I finally got to see one of my favorite bands, and I got to be a part of their discography.
Thanks, guys, for including me.